A dream room for any child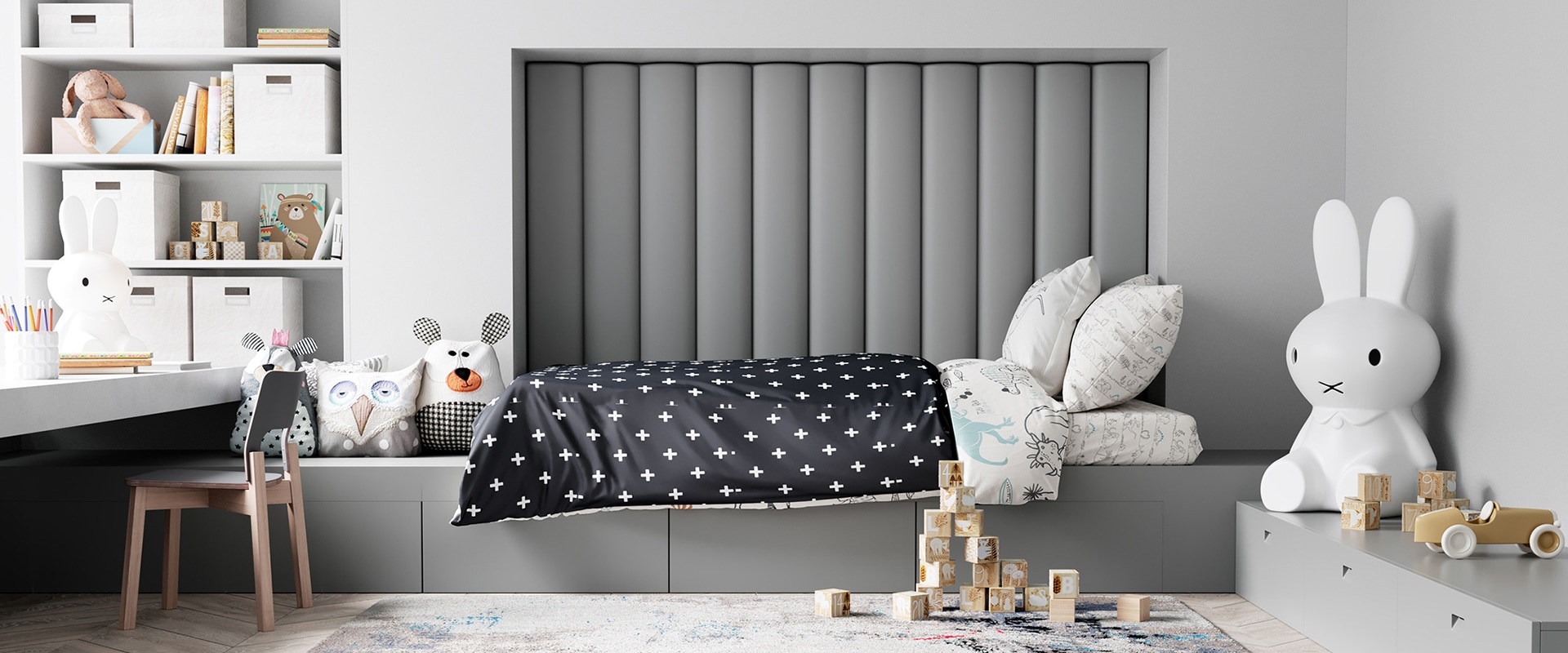 Do you find there are always toys scattered around the house? Parents often resign themselves to the idea that it's normal for stuffed animals, books and games to be just about everywhere!  The best solution, however, is to rethink your youngest family-member's room, making it a place where they can sleep, play and even do their homework. We're sure everyone will agree this is going to be the most fun room of all!
Two things you must focus on is what your child likes and dislikes and their age. These will be your starting points when it comes to putting together their dream décor! Keep reading to find out some features of the room you can personalise to please the room's occupant – who from now on is sure to want to spend a lot of their time in there!
Custom furniture
First, check how much space you have available and make sure you're taking advantage of each corner, which will allow you to build lots of different areas. Use custom-made, fully personalised, multifunctional furniture which is, of course, of the highest quality! The most magical of canopy beds and bunk beds for the fearless, each sure to amaze your little ones!
Making the most of wall-space by installing shelves, nooks, bookshelves, hangers or chests is always an excellent way of storing toys or other belongings. If you have enough space, you could even include a side table or a desk, where your little angels can colour, draw or study.
Details that make a difference
Mellow or more energetic tones? Are you focussing specifically on children's furniture or thinking about it lasting as they age? Many questions arise when it comes to designing a truly unique room. But actually, there are no rules! It all depends on the tastes of those involved.
Details such as using wallpaper, rugs, bedding, blankets, and decorative pillows with childish prints can all be replaced easily and adapted to each stage your child goes through. Ensuring you have a few well-lit areas and mixing and matching furniture colours and textures is usually a recipe for success. The possibilities are endless, so the more personalised the room, the better!
Safety first!
As well as being comfortable and welcoming, your child's room must be, above all, safe. Keep a close eye on sockets, furniture corners and edges, small decorative items, curtains and high shelves, which must be adequately protected, as they can cause unexpected accidents.
Depending on how old your child is, consider placing barriers along the sides of their beds – they may be very fidgety, even when they're asleep. You should also make sure that certain pieces of furniture, such as chests of drawers, shelves and cabinets, are firmly attached to walls. You can never be too careful!
If you plan it well, this room will actually be able to "grow" with your child, adapting as they age, both to their tastes, and needs! Take a chance, be creative, as that's the only way you'll end up with a room as unique as the little person who lives in it!
If you have some ideas, but don't know where to start, Novibelo is the perfect partner for you because our professionals are experienced in designing, producing and assembling all different types of furniture. We can help you bring completely "made to measure", personalised projects to life, amazing both kids and adults!