Marble, glass and metal, the most loyal allies of any piece of furniture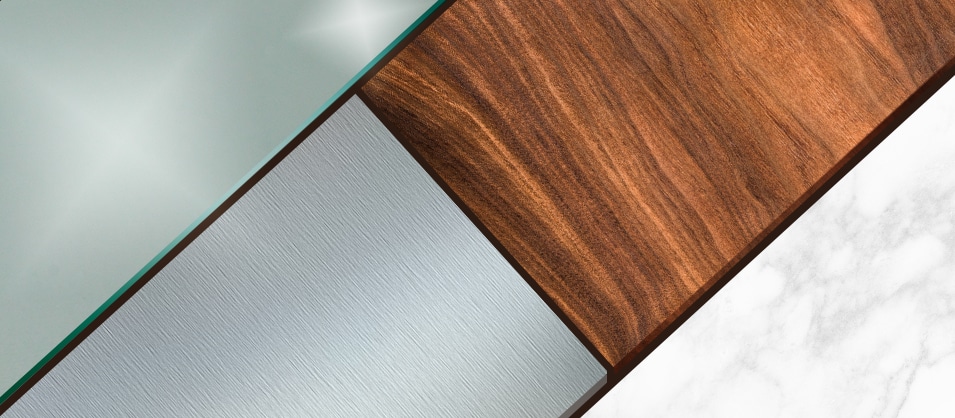 Materials such as marble, glass and metal have long been used in decorative designs. Lately, these have drawn particular attention for the way in which they can be perfectly combined with the raw material of excellence: wood.
Whether in furniture, on floors, on walls or used in decorative pieces, wood will never go out of fashion because of how easily it can be used in conjunction with just about any other material. Although each has its own distinct properties, each of these materials contributes to the harmonious decoration of any space, in a truly unique way.
Marble has particular characteristics, as well as a plethora of tones, textures and veins, and can be used on coffee tables, side tables or even in decorative pieces.
Glass, in addition to being light and versatile, is an extremely functional option, thanks especially to its durability and the ease with which it is maintained. It can be used to highlight a dining or coffee table, as it can be used to fashion various decorative pieces that are then placed on wooden furniture.
Widely used in tables, chairs, armchairs and sofas, lamps, sculptures and handles, metal comes in all shapes and finishes. Whether brushed or polished, furniture made out of stainless steel contributes to more aesthetically attractive environments with a modern feel.
In short, marble, glass and metal can all used to fashion a variety of pieces of furniture, giving them a touch of modernity, elegance and sophistication, regardless of the environment in which they are placed. Whether used in living rooms, bedrooms or kitchens, these materials really do make all the difference to the overall feel of any space.
Do you want an original, distinctive piece that brings together all these materials? Novibelo is the right partner for you.