Your Home office – study or work efficiently in the comfort of your home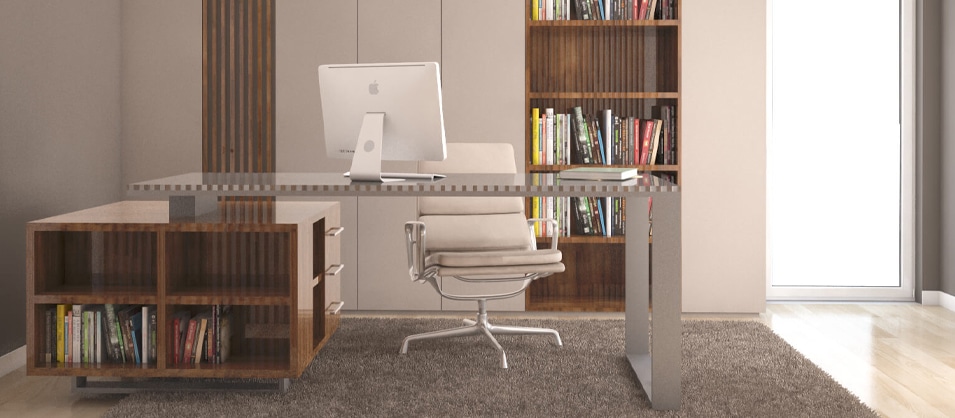 Now, at the start of the school year, is when we all start to think about putting together the perfect study space, with the right furniture, where children will be able to do their homework. You might be picturing putting a big desk in your child's room – but what about when that's not possible? (Either because the room's too small, or because it's already bursting at the seams!) Different options have to be explored to find somewhere else in your house. Somewhere that might just be even more perfect.
Nowadays, it is very common to find home offices built into a hallway, just outside a bedroom, fitting perfectly into the surrounding space and décor. The neutral, shared location can then be used by both kids and adults! However, to get what you want, there are a number of details you need to take into account. Find out which ones are the most important:
A Quiet place
The place you choose to set up your office should be pleasant, comfortable and, above all, quiet, because both study and work require concentration. This means you should avoid places where you might have distractions such as TVs and games consoles.
The perfect desk
Regardless of the model and the materials you choose for your desk, this piece of furniture must be harmoniously integrated into the surrounding area, meeting the needs of those who will use it.
Shelves, drawer units and storage alcoves
An aspect that's just as important as a desk is storage space. As well as being useful and practical, drawer units, shelves and storage alcoves will help you keep the place neat, tidy, organised and pleasant to look at – as well as giving it more character. 
Customised bookcases
Space permitting, you can even put up a nice bookcase that you can use to better organise your books and folders. There are lots of designs, styles, colours and sizes to choose from, or you could even design a custom piece that fits your home office like a glove.
Ergonomic chair
This element is often overlooked, but is another one that deserves some thought, because you are sure to spend quite some time sitting there. The chair you choose should be ergonomic, and you should be able to adjust the height of the seat, the armrests and the inclination. Your chair is what helps you sit properly and keep a good posture while you work or study so it's definitely something you shouldn't skip over.
Enough lighting
In addition to the lighting that's already there, whether it is natural or not, a good table lamp is essential so that you don't end up straining your vision.
A couple of last thoughts include the importance of your home office being kept tidy and organised, as it will become an important feature of your house, and having sockets nearby. (But make sure you don't leave a jumble of wires visible!). Finally, you can add a personal touch by adding some decorative pieces to your office to really make it your own.
Whether you're creating a home office or integrating a study area into a bedroom, choosing quality, functional furniture that is often custom-made is always a good option. The best way to do it is with an experienced team by your side, who know exactly what they need to do to give you the solution of your dreams. Novibelo's team of experienced professionals can do just that, making us the partner you need to get the home office you've always dreamed of!