Celebrate the start of summer with a charming outdoor area!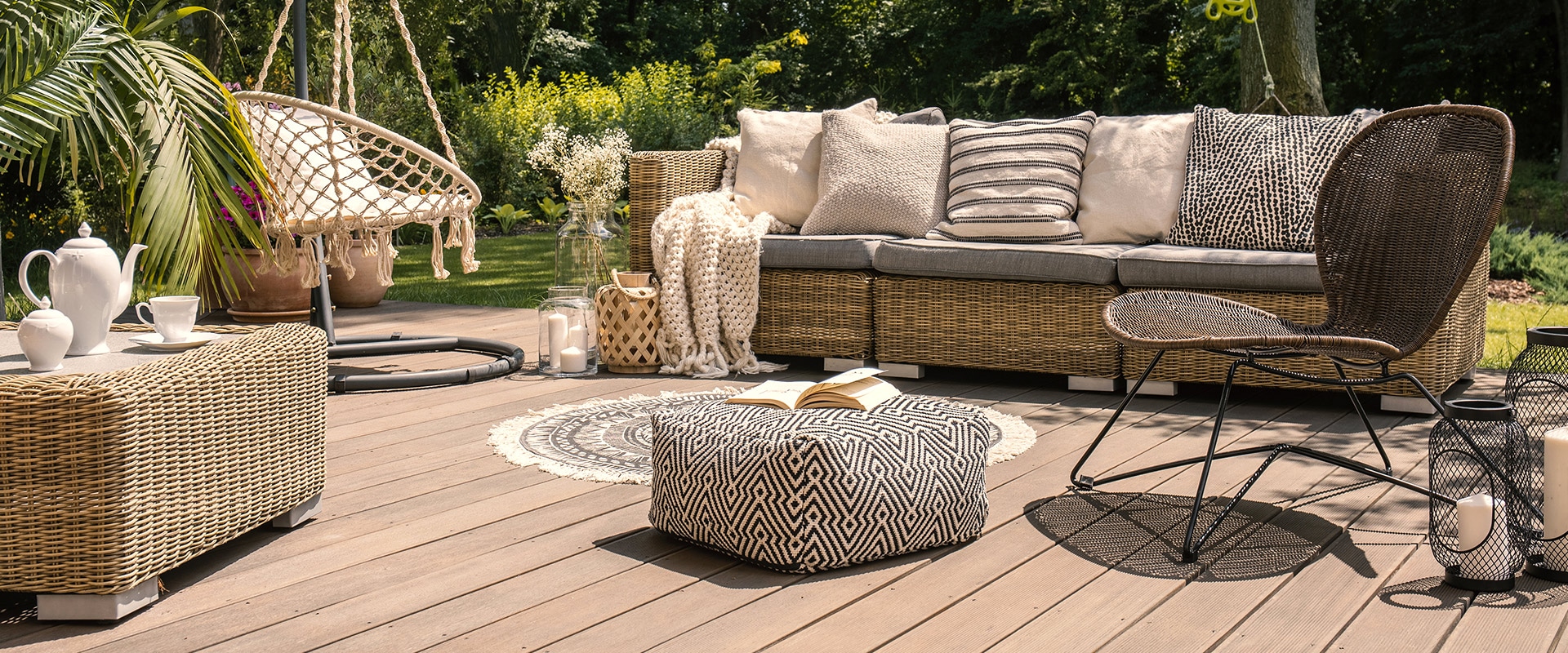 We can all agree on the importance of interior décor, but what about outdoor design? Doesn't it also deserve to be thought out with the same precision? Now that the longest, warmest days of the year have come around, we all want to spend more time outdoors. As such, no matter how much room you have available, it's time to start choosing the furniture and accessories you need to make your outdoors both cosy and functional. Here are some suggestions to help you plan yours!
Larger outdoor spaces
If you have a garden or patio area, tables, chairs, sunshades…  And even the wonders of a pool may be within your reach!  There's nothing better than a dip or two to cool off both your body and your mind! You could also arrange sofas and sun loungers around your outdoor area, perfect for relaxing in.
In some houses, the ideal option may be to create a porch or even an outdoor lounge area, as both are perfect for enjoying the good weather.  If you love hosting family and friends, why not opt for an outdoor kitchen? Having a barbecue on festive occasions and for livelier events is always an excellent idea!
Depending on how much space you have available, you can (and should) create different spaces, that is, keep your dining area separate from the leisure/rest area, using different materials such as wood or grass.
Smaller outdoor spaces
Usually, people who live in flats are already used to having a limited amount of space, but they shouldn't let that stop them! In fact, if you allow your imagination to run wild, we're sure you'll find you can transform a balcony into a delightful place to be! It's all in the details. Just give it a personal touch, pick out the right furniture, add plants and small objects like colourful pillows and candles, and just like that, you'll have achieved cosy décor! A hanging garden on one of the walls will look beautiful and will undoubtedly create a striking impression!
Whether your outdoor area is large or small, the size of the furniture, the colour palette and the style you choose are all essential things to think about.  Think about the colours of your walls, fabrics and decorative pieces, as they are decisive when it comes to creating the environment you're aiming for. Outdoor areas function as extensions of the inside of your house, so it's crucial you develop a sense of harmony between the two. Do so by using the same colours, the same style or similar accessories to establish this connection.
Lighting must be well distributed in any outdoor space. While you may aim to make your garden shady during the day to protect you from the sun and heat; at night, place candles, lanterns or even spotlights around the area to bring even more comfort to the environment.
If you're planning on (re)decorating this area of your house, Novibelo is here to help you with your design. Staying at home doesn't have to be a bad thing… all you need is to know how to organise the space you have available so that you can make the most of each ray of sunshine!  Contact us.